Atlas Ram Pump E-book
Ordering and some sample pages below


---
Home &nbsp &nbsp Hydraulic Ram Pumps&nbsp &nbsp Crayfish Farming &nbsp &nbsp Red Claw Crayfish Farming &nbsp &nbsp
---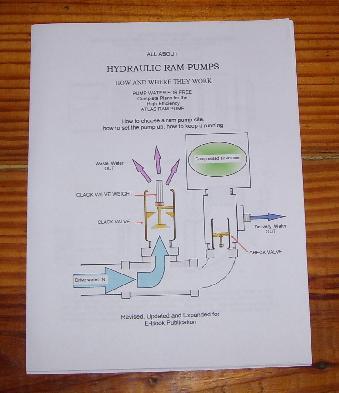 A full description of how to build and install an Atlas Ram Pump is contained in this E-book as well as general information about ram pump systems. This is not a copy of the print book, sold now for over 25 years. It is a compltete rewrite of that book, with insight gleaned from over 30 years of dealing with ram pumps, especially the Atlas; sometimes as a hobby, sometimes maintaining my own homestead water system. How a ram pump works, how and where to set one up and maintain it. All the material from the print book, plus lots of new information, expanded and updated for E-book publication. One section has 5 full pages devoted to detailing the only real fabrication in the Atlas Ram Pump...the Check/Tank mount..not especially difficult, just close work.
This E-book is 4.4 megs in file size, 30 pages long and formatted to a size of 8.5" x 11". Printed on one side with many color photos and drawings, this book can be printed out or read on your device as a PDF file. Better paper will yield crisper photos in the printout. The print out can be stapled on the left edge or you can have it bound in many other ways. You may make several printouts,and your reader may allow you to print out single pages at a time.



Here are some FREE sample SINGLE pages from the Atlas Ram E-book, an example of the content:

Click here for sample of page 1 &nbsp The Hydraulic Ram Pump

Click here for sample of page 9 &nbsp Atlas Ram Pump Parts List

Click here for sample of page 10 &nbsp Atlas Ram Pump Exploded View

Click here for sample of page 16 &nbsp Base unit assembly

You should get the standard pdf download screen or routine.

ALSO.. at the bottom of this page there are 5 free pages dealing with the Check Mount construction steps.


---
Buying the E-book
---

Pay with PayPal or credit card. The price is $4.00. Please order the e-book separately from others.

Click on the 'buy now' button to be taken to the paypal payment routine.

After payment you should be sent immediately to a page similar to this one
with the link to the PDF file for this book.

Then you just click on the blue link and the download will begin.
There may be little indication of this on your screen, and it can take a minute or so depending on your system.

PLEASE NOTE! Sometimes the credit card payment routine doesn't return you to the right page.
If there is any problem with getting your book please contact me right away!
No need to verify your payment, if you paid I have been notified.
Just e-mail me at kaspruce@aol.com and let me know if you missed the link. &nbsp &nbsp
I can e-mail the link page ASAP.



---
Free Check Mount Construction pages from the E-book
---

Below are the pages 11 to 15 from the e-book covering the check mount construction process.
These pages are useful for those who have the print book and want some additional up-to-date details of that process.
The sample is just over half a megabyte in size.

Click here for free check mount construction pages from the Atlas Ram E-book
You should get the standard pdf download screen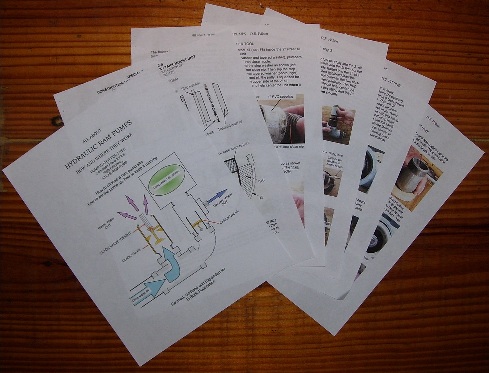 kaspruce@aol.com

atlaspub201@gmail.com

Questions? Feel free to e-mail for specific information
about this download.
Kenneth Spruce CEO

---