---
Red Claw!
Raising the Giant Australian Freshwater Crayfish ($12.00)includes shipping
(ISBN 0-9631526-3-7)
The Red Claw crayfish is very similar to the native American crayfish, except that it grows to a HUGE size
almost to the size of a lobster!
---
Home &nbsp &nbsp Ram Pumps&nbsp &nbsp Crayfish Farming &nbsp &nbsp Red Claw Crayfish Farming &nbsp &nbsp FEATURED "RED CLAW FARM "&nbsp &nbsp
---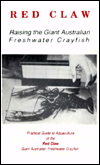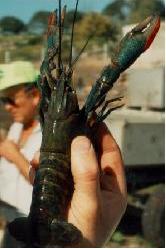 Raising the Giant Australian Freshwater Crayfish

The Red Claw crayfish is a new and very promising aquaculture species. This book is one of the few sources for complete information on all aspects of the culture of this lobster-sized freshwater crayfish. Compiled from leading-edge research direct from Australia as well as individual findings all over the U.S., this book dispels the hype and furnishes the facts about this little known but highly prized aquaculture species. Fish farmers have managed to become major players in this bottomless market in only a couple of years. Small scale family run operations are harvesting short lobsters in less than a year and the start-up costs are low, the reproduction rate is high and the profit is great!


From Fish Farming International- "The production of freshwater crayfish native to Australia, especially in closed systems, makes for ideal local development projects in rural communities", says Dr. Theo Ratte, an expeienced international fisheries and aquaculture scientist.
"Closed systems, with all the benefits they offer, can be relatively easily and inexpensively established and managed. Some benefits include safety from predators, controlled feed intake, controlled environmental factors-(turbidity, temperature, waste management) all of which produce maximum growth rate, highly efficient reproduction rates, and the highest possible weight at harvest. Simple selective breeding can increase the size and disease resistance of successive generations, as in the now famous 'Super Shrimp' of Mexico".


---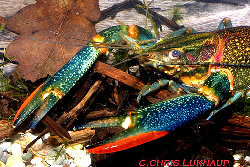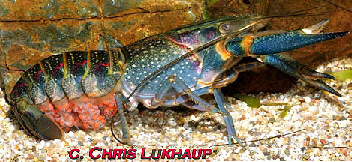 The redclaw is a valued aquarium species with their exotic coloration. They are not aggressive, and they reproduce rapidly and easily.





---
Why red claw crayfish?

The redclaw crayfish species possess qualities which make it particularly well suited for intensive aquaculture. Redclaw reproduce rapidly and grow to market size in less than a year. The meat is arguably more healthy than traditional seafood products as it is low in fat, cholesterol and salt. The species is economical to produce, is lobster-like in appearance and compares favorably in both flavor and quality with other marine crustaceans. Redclaw are often described as having a similar flesh texture and flavor to that of a lobster. Local demand for redclaw is strong with as little as 4% being exported. Significant export potential has been identified for future production expansion.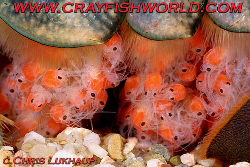 The redclaw reproduces rapidly and easily for commercial hatcheries or farming.
Each female can produce from 500 to1400 young each breeding cycle, depending on her size. Breeding takes place year round with proper water temperature, quality and simple feeding regimens.

There are plenty of esablished redclaw hatcheries and farmers offering stock and supplies for redclaw and other crayfish stock. We have a list of suppliers at this page--Redclaw and Crayfish Suppliers. &nbsp This page is set up to be 'printer-friendly', you can easily print this page on a single sheet, or simply view it. Just click the blue lettering link. Updated regularly.
---
'Red Claw Ranch' Featured Red Claw Farm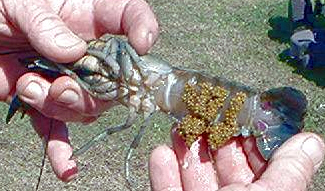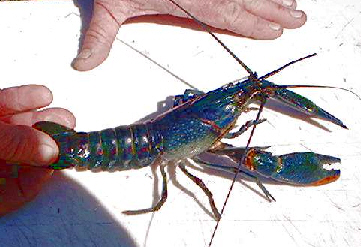 Here is a young Red Claw breeder. You can see the color & size of the crawfish, and the large number of eggs.
From Red Claw Ranch, Florida.


---
BOOK REVIEW


From 'SMALL FARM TODAY' by Ron Macher, editor: "Both of these booklets ('Small Scale Crayfish Farming' and 'Red Claw! Raising the Giant Australian Freshwater Crayfish') offer inexpensive, detailed information on the possibilities of raising crayfish for food and profit on a small acreage. There are not many crayfish reference books, and these two small books pack all the information you will need into a tiny price."


---
Home &nbsp &nbsp Ram Pumps&nbsp &nbsp Crayfish Farming &nbsp &nbsp Red Claw Crayfish Farming &nbsp &nbsp FEATURED RED CLAW RANCH &nbsp &nbsp
---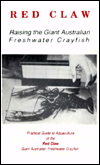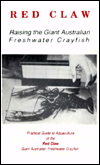 To place an order for this book, these books are ONLY available in the United States. Sorry no books will be shipped to international address
send check or MO for $12.00(includes shipping) per book to:
(please indicate which book)

Atlas Publications
216 Soaring Eagle Dr
Murphy, N.C. 28906-5729



Better yet! Order online with PayPal or credit card...


---
atlaspub201@gmail.com &nbsp &nbsp E-mail if any questions.
Kenneth Spruce CEO
©2012 Atlas Publications