Click to see the new Website for Red Claw Ranch!
---
Featured Red Claw Ranch

---
Red Claw Ranch
Elkton, Fla.
Red Claw Ranch has Juveniles, Breeders and Iced Food Redclaws
---
Home &nbsp &nbsp Hydraulic Ram Pumps&nbsp &nbsp Crayfish Farming &nbsp &nbsp Red Claw Crayfish Farming &nbsp &nbsp
---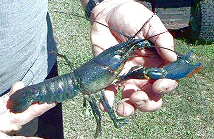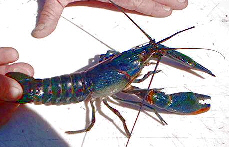 Red Claw Ranch


Raising Red Claw freshwater crayfish for a few years now, Rusty Uhland has said this is an excellent aquacuture species. His production facility near Elkton, in north Florida, started with only 50 juvenile red claws, is now the largest commercial producer of red claw freshwater lobsters in Florida ...almost doubling in size every year. He's putting up another greenhouse (photo below) this spring. "About the only problem with these critters is that every once in awhile one will get the urge to go walkabout." As most Red Claw farmers will agree, tank culture is the most efficient way to raise red claw, and walkabout is easily solved by having the water inlets above the water line and having nothing going over the side of the tank. The water level stays six inches below the edge of the tank, and the overflow drain has a good screen on it.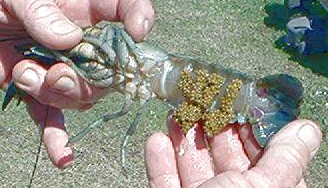 Here is a young red claw breeder, full of eggs (berried). Red Claw Ranch produces breeders with around 700-800 eggs per breeder, and gets about an 85% survival rate with these eggs.
The eggs can be left on the female until they detach naturally, or the eggs can be removed and put in an incubator tank.
This process is covered in the book:
Red Claw! Raising the giant Australian Crayfish .
The berried females are usually put in a separate tank. After the eggs hatch and detach, the young crayfish want to hang on to something, and eat. Steady, 2-3 times daily feeding will produce much larger and healthier juveniles than those born in the wild or even in a relatively uncontrolled pond environment. This is the really important growth time, and just keeping the environment warm and clean during this time will make a huge positive difference in the final adult weight of the Red Claw.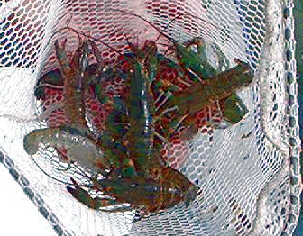 Here is an example of the juveniles available from this farm. A little extra care at the stage from hatchling to 1"-3" in length, pays huge dividends. This involves having about 750 juveniles per tank, and having some kind of mesh for them to hang on to, thereby suspending them all through the water column. Some farms use plastic mesh such as onion bags for this; Michael will try water hyacinth this year; that will provide a natural mesh and food as well. The young red claw are territorial at this stage and only want to hang on to their little space and eat and grow. Feed needs to be spread evenly throughout this tank so the little ones don't have to go far for food. A unique method used by some red claw farmers is brine shrimp eggs, hatched, harvested, and frozen into ice cubes. These will float around in the juvenile tank, melt, and spread this perfect food throughout the tank.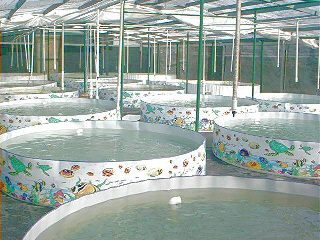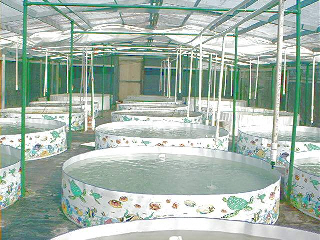 As you can see above, Rusty used an inexpensive but very efficient method for his Red Claw production.

8 foot diameter by 18 inch wading pools (from Wal-Mart, appx. $10.00 ea., off season), reinforced with 18" sections of aluminum soffit, for the tanks. A simple screened overflow drain and overhead water inlets comprise the plumbing. The water is sprayed into the tank, which gives more than enough aeration. Solar heating and occasional water heating keeps the water temperature at the ideal 80 degrees F. Each tank holds 750 juveniles or 500 adults. At 4 to 6 adults per pound, and selling for $8.50 to $10.00 per pound, it is easy to see an excellent return on each tank employed. A greenhouse may not be necessary, something better insulated that can be heated may be needed in a colder climate for the winter months


---
AUSTRALIAN RED CLAW PRICES from Red Claw Ranch
PLEASE E-MAIL FOR NEW PRICES!
SHIPPING POLICY:


Shipping charges will be determined from customers zip code. This shipping charge is determined from FedEx web site. Live shipments are shipped priority express overnight. We ship on Tuesday of each week for delivery on Wednesday, unless prior arrangements have been made. Payment for shipment must be received prior to shipment. We do not ship to Post Office Boxes.



BUSINESS HOURS OF OPERATION AND CONTACT INFORMATION:




We are open from 8:00 AM EST to 5:00 PM EST Monday through Friday. Closed on weekends.



Email contact liveaquaponics@gmail.com. Email usually checked daily between 3:30 AM and 6:00 AM EST.

Due to overwhelming demand, "Farm Tours" are no longer available.
---
Order from:
Florida Freshwater Foods LLC aka Red Claw Ranch
C/O: Rusty Uhland
3800 CR-13 SOUTH
ELKTON, FL. 32033

PHONE: 904-377-0172
FAX: N/A at this time

E-MAIL: Red Claw Ranch


---
Home &nbsp &nbsp Hydraulic Ram Pumps&nbsp &nbsp Crayfish Farming &nbsp &nbsp Red Claw Crayfish Farming &nbsp &nbsp
---
******************************************
---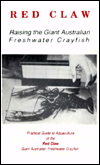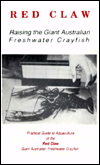 To place an order for this book
to get started in Red Claw Crayfish Farming,


Atlas Publications
216 Soaring Eagle Dr
Murphy, N.C. 28906



Better yet! Order online with PayPal or credit card--usually ships in 48 hrs..

---
©2012 Atlas Publications
atlaspub@bellsouth.net -- E-mail us if any questions.